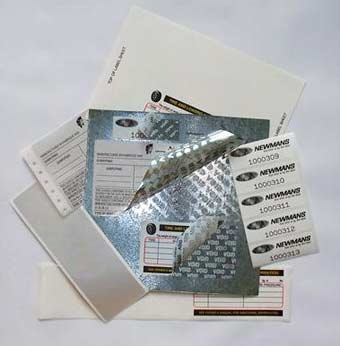 Random Lake, WI -- Products that have been tampered with can have a significant financial or warranty impact to a company. Badger Tag & Label Corporation prints labels that include a VOID pattern adhesive to clearly display evidence of tampering.
The label material is designed to leave the word "VOID" behind if the label is peeled away. The VOID copy is available in silver or white; however the label stock can be tinted any color. Badger can do all the printing on the label; or it can be imprinted by the end user with laser, dot-matrix, thermal transfer printing; or it can be handwritten on.
"Badger primarily prints the VOID pattern labels used on trailers that indicate rated load weight," says DJ Jacoby, Vice President/General Manager at Badger. "However, this type of label material has virtually unlimited potential uses including in the electronics industry for parts that are covered by a warranty, in healthcare for sterilized or pre-filled products, on airplanes for meal and beverage carts after they have been stocked, and for shipping of cargo containers. These represent just a few of the applications and industries where multiple sources either handle a product in manufacturing or transit or when it reaches the end user."
Badger Tag & Label Corporation has been producing custom tags and labels since 1935. Headquartered in Random Lake, Wisconsin, they serve clients throughout the nation. They print on both paper and synthetic stocks and deliver the finished pieces in singles, rolls, sheets, ganged, or fanfolded. With a variety of finishing options, Badger provides a custom piece from initial design through complete printed tags and labels.
For more information about VOID pattern labels, including free samples to test, call Badger Tag & Label at 1-800-331-4863 or e-mail: sales@badgertag.com