Badger Tag & Label has been operating from the same location in the heart of Random Lake, Wisconsin, since the beginning of the company in 1935. Badger has expanded over the years to its current 52,000 total square feet of space in two locations. Included in the production facilities are 18 presses, nine of which are letterpress, five are flexographic and four digital presses. To compliment those are a variety of wiring and stringing machines for tags, finishing and inspection/rewinding machines along with two digital plotter cutters.
Over the years the company has grown to include two salespeople serving the Wisconsin market and over 3000 independent dealers across the country. We complete over $9 million in annual sales which is made up of 40% labels and 60% tags.
The founding slogan of the company, "we fit the tag to its purpose," still holds true today with our commitment to total quality control. We work with the companies we serve to assure that the tags and labels we produce are the best solution to your needs. This personal attention ensures accuracy and prompt delivery of each order. With an average tenure of 19.23 years, the Badger team is very knowledgeable and able to provide consistent products.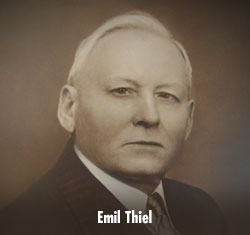 Emil Thiel was the founder of the company. He undertook a variety of other business adventures until he combined with The Piperhagens of Milwaukee who were operating Globe Tag. The business was moved to Random Lake at that time. The beginning of the Great Depression in 1929 saw the company not operating at a profit and the Piperhagens left the business while leaving all the debt behind. Other stockholders in the company offered Emil the option to buy them out and he did so. Thus he became the sole owner of a defunct business.
When Emil Thiel became the sole owner of Badger, he invited his two sons, Elmer and Clarence, to join the company and it became a family operation. He also employed his three daughters.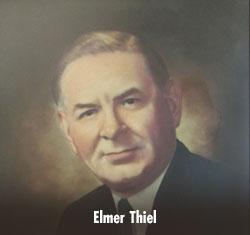 On September 4, 1935 the company was incorporated under the name Badger Tag Corporation.
In 1961 the two sons saw a need to expand the executive staff and hired Joel Entringer. He later served as president and treasurer and retired in 1998.
Elmer's son, Jim Thiel, was selling tags and labels for another company and in 1969 came to Badger to cover sales in the Chicago area. In 1972, he moved to Random Lake and became vice president of sales. Jim retired in late 2003.
In 1969 the company's name was changed to Badger Tag & Label Corporation to more accurately reflect the products we offer.
Clarence's sons, Bob and Dick Thiel, spent many summers doing a variety of jobs at the company. After completing college both joined the company full time; Bob in 1971 as vice president of pricing and Dick in 1976 as vice president of sales. Today, Bob serves as the president while Dick retired in 2015. Dale (DJ) Jacoby served as a vice president and had been with Badger Tag & Label 44 years, until retiring in 2020.
Under the current leadership, Badger Tag & Label employs 40 people. In 2013 Ryan Will joined the company and serves as vice president. Derrick Will joined Badger in 2022 and is Badger's General Manager. Our sales & marketing manager is Mary Schommer who has been with Badger since 2017.
We have an average order turnaround of 15 business days but also work with companies that need rush orders in tighter timeframes. Our turnaround for our digital equipment is approximately 7 business days.
Badger Tag & Label is a member of Brand Chain, formerly known as Print Services & Distribution Association (PSDA/Document Management Industries Association (DMIA), whose goal is to serve the businesses of printing and forms dealers through education at seminars and in a magazine dedicated to advancing the industry.
Badger Tag & Label is a member of the Random Lake Area Chamber of Commerce.
For deeper information about our capabilities, go to our options or resources pages. For a quotation, call 1-800-331-4863, e-mail sales@badgertag.com or visit our Contact Us form.
Badger Tag & Label in the beginning, this photo being taken in the late 1930's. Several additions and updates have occurred since that time.

The plant at 83 Bentert Street is currently used for our letterpress, finishing and prepress departments.

Our new plant at N507 Badger Way, Random Lake, houses our flexographic and digital departments as well as our main office.

The Badger Way Grand Opening was held on May 12, 2018. Taking part were (L to R) DJ Jacoby, Paul Schroeder, Bob Thiel, Joel Entringer, Jim Thiel, Dick Thiel and Kevin Kalkofen.

Each year the employees of Badger gather for a company picnic. This photo is from one of the picnics held in the 1940's.

Celebrating the 25th anniversary of Badger Tag & Label were brothers Clarence Thiel (left) and Elmer Thiel (right). The photo in the center shows Emil Thiel, founder of Badger Tag & Label.

Our 50th anniversary was celebrated with the entire Badger Tag & Label staff taking a dinner cruise on the Valley Queen II on Lake Winnebago.

Helping to celebrate Badger's 70th anniversary were family members (L to R) Dick Thiel, George Schroeder, Dee Thiel, Jim Thiel, Carol Boehlke and Bob Thiel.

The employees gathered at a special celebration for Badger's 75th anniversary at the Osthoff in Elkhart Lake.

The Badger Tag & Label staff gathered for a photo in honor of our 75th anniversary.

The Badger employees were treated to a Brewer's game in Milwaukee for our 80th anniversary.

Taken in the late 1960's, this photo shows the operators running the stringing and wiring machines.

Our first flexo press, a Webtron, was purchased in the late 1960's. It was one of the first Webtrons built.

Our six-color Mark Andy Press was added in 2006, which allows us to produce great looking prime labels and much more.

Our capabilities were expanded even more with the addition of a plotter cutter in 2009.

A six-color UV inkjet press was added in June 2009.

Our newest digital press was added in 2017.

The production area is more spacious in the new Badger Way location.