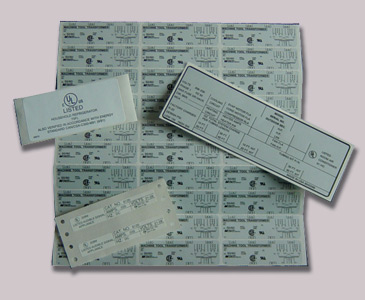 Random Lake, WI -- Badger Tag & Label Corporation, a printer of custom tags and labels, has been recognized by both the Underwriters Laboratory (UL) and Canadian Standards Association (CSA) to print labels that meet their guidelines. Badger also offers blank labels as part of their UL Repackaging Program.
Since completing an initial extensive review process to be recognized, Badger also undergoes an annual review to confirm they remain in compliance with the UL and CSA standards.
Consumer electronics are the most common products that include UL/CSA labels. The designation means all the components, including the label, have been tested and pass the criteria for compliance. The labels Badger supplies may be tested individually or tested as an entire order. The artwork for the label should also be on file with either the UL or CSA organization.
"All the protocols assure consumers are protected," says Bob Thiel, President of Badger Tag & Label. "And since as a company we don't know when our review will take place or which labels will go through testing, we maintain compliance year round on all the labels we produce. Not all label printers attain this so we're proud our efforts continue to result in our recognition by these respected organizations."
UL/CSA labels are printed on special white or silver durable, pressure-sensitive stock. These labels replace difficult to use and more costly metal nameplates. Badger offers preprinted labels and blanks as part of the UL Repackaging Program. All of their labels can be printed on at the end-user facility with thermal transfer or dot matrix printers.
Badger prints UL/CSA labels in virtually any size requested. They can add numbering and barcoding; and perforate, score, laminate, or UV coat the labels. With choice of unwind style, the labels can be die or butt cut. Or labels can be provided as single with a pull tab, as singles on a sheet, or fanfolded. The pre-press department at Badger assists clients with developing artwork.
Badger Tag & Label Corporation has been producing custom tags and labels since 1935. Headquartered in Random Lake, Wisconsin, they serve clients throughout the nation. They print on both paper and synthetic stocks and deliver the finished pieces in singles, rolls, sheets, ganged, or fanfolded. With a variety of finishing options, Badger provides a custom piece from initial design through complete printed tags and labels.
For more information about the tags and labels Badger produces, including samples of UL/CSA labels, call Badger Tag & Label at 1-800-331-4863, or e-mail: sales@badgertag.com