Random Lake, WI -- Badger Tag & Label Corporation offers self-sealing laminated tags that have proven reliable when exposed to the harsh outdoor elements. Two additional benefits of the lamination are it is UV protective and once information is placed on the tag it becomes permanently encased in the protective clear polyester overlay.
The ease of use of this type of tag makes it a good choice for a variety of industries. Once information is written on the tag, the user simply folds back the mylar flap and eases the polyester laminate across the tag. The overlay offers permanent protection and fade resistance of the information on the tag.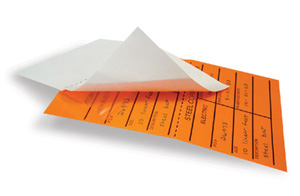 Badger Tag & Label can create custom tags on over 50 paper and synthetic stocks. One of these specialty stocks used extensively on the self-sealing laminated tags is their proprietary Badger-Tuff.™ This stock offers the benefits of being puncture and tear resistant and withstands temperatures from 220° F to -70° F. Badger-Tuff is also UV stabilized, waterproof, chemical resistant and withstands the harsh elements when used in outdoor applications.
Badger Tag & Label provides a variety of finishing options for tags including wiring or stringing, reinforced holes, and consecutive numbering. Whether the tag is in a standard rectangle shape, or there is a need for a custom shape design, Badger works with companies to assure the final tag will address all requirements of its use.
"Self-sealing laminated tags have quickly become very popular with chemical and steel manufacturers since they have the need to label loads and individual products that will sit outside for extended periods of time and have the potential for the information on the tags to be tampered with," says Dick Thiel, Vice President of Badger Tag & Label. "We are the only company to be able to create this unique self-sealing laminated tag using Badger-Tuff as a base."
Badger Tag & Label Corporation has been producing custom tags and labels since 1935. Headquartered in Random Lake, Wisconsin, they serve clients throughout the nation. They work with both paper and synthetic stocks and deliver the finished pieces in rolls, sheets or fanfolded. With a variety of finishing options, Badger provides a custom piece from initial design through complete printed tags and labels.
For more information, including a free sample, about self-sealing laminated tags call Badger Tag & Label at 1-800-331-4863 or e-mail: sales@badgertag.com