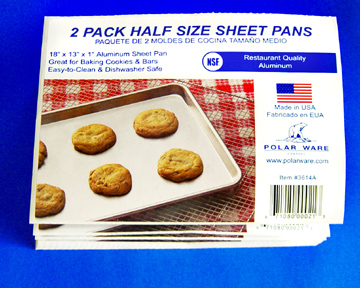 Random Lake, WI -- Badger Tag & Label Corporation has developed a label that prints on stock with adhesive properties so the label adheres to a product at the manufacturer and through shipping and display at retail, but can also be easily removed by the consumer without leaving any adhesive residue. The label, originally developed for a cookware manufacturer, can be used for many products since it adheres to a variety of surfaces including metals and plastics, and has flexibility to follow curves and angles of a product.
For companies that have been using labels provided in sheets, Badger offers the benefit of labels on rolls with a choice of unwind styles. This means the label can be applied to a product in line with label application machinery thus eliminating more costly hand application. Roll labels are either die cut or butt cut and can be specified in many shapes and sizes. Badger offers other label formats including single sheet, single label with pull tab, and fanfolded.
Badger prints in up to eight colors which allows for any combination of four-color process, spot colors, varnishes, and laminates on a label project. A common varnish is ultraviolet. A UV varnish can be over the entire label surface which saves money since an overlaminate is not necessary and the varnish protects the print on the label from scuffing during shipping and display. A UV varnish can also be in spots to allow for the protection of the printed graphics but then also provides areas that can be imprinted at the manufacturer using additional printing methods. The spot UV varnish can save a manufacturer money since they could use one standard design label and customize with barcode, product name, SKU number, and any other product specific details.
With finishing options like perforation and scoring, Badger works with the companies they serve to develop the optimum solution to their label and tag needs.
Typically a company supplies the label artwork to Badger but they can also develop artwork for a label.
Badger Tag & Label Corporation has been producing custom tags and labels since 1935. Headquartered in Random Lake, Wisconsin, they serve clients throughout the nation. They work with both paper and synthetic stocks and deliver the finished pieces in rolls, sheets or fanfolded. With a variety of finishing options, Badger provides a custom piece from initial design through complete printed tags and labels.
For more information about the tags and labels Badger produces, including a free sample of a repositionable label, call Badger Tag & Label at 1-800-331-4863 or e-mail: sales@badgertag.com
Contact:
Dale (DJ) Jacoby
Badger Tag & Label Corporation
920-994-4348
Fax 920-994-2040
e-mail:
dj@badgertag.com