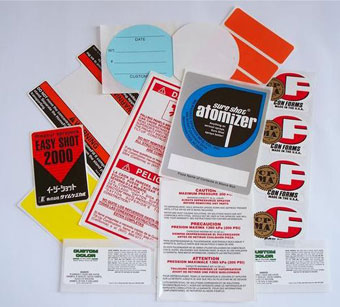 Random Lake, WI -- Badger Tag & Label Corporation has developed a synthetic label for companies looking to reduce costs in today's challenging economic times.
"In addition to savings, this label allows thermal and other printing, has a very aggressive adhesive, and is strong and durable to withstand outdoor elements," says DJ Jacoby, Vice President/General Manager at Badger.
The label stock is a 3 mil. high density polyethylene that has excellent thermal (direct or transfer) printability for customization at the end-use facility. The label can also be printed using laser, inkjet, or dot-matrix methods; be stamped or handwritten on. By adding a clear mylar overlay, information the end-user prints can be permanently encased and protected.
The label can be applied to stainless steel, high density polyethylene, corrugated, wood, and powder coated surfaces. Because of the quick tack and its overall flexibility it adheres to textured surfaces and can mold to the shape of an item; including something as small as a pen.
Because this stock is a synthetic it also has these attributes: waterproof, chemical and tear resistant, UV stabilized so fading is eliminated, can be folded without cracking, puncture resistant, and withstands temperature extremes from 140˚ F to -20˚ F.
"Currently we are producing these labels for manufacturers of everything from paint, piping, furniture, electronics, industrial equipment, motors, and solvents," says Jacoby, "and that represents just the beginning of the possibilities for this synthetic label."
In addition to creating custom labels with logos and graphics, Badger also provides standard synthetic labels without printing allowing for complete customization at the end-use facility.
Badger Tag & Label Corporation has been producing custom tags and labels since 1935. Headquartered in Random Lake, Wisconsin, they serve clients throughout the nation. They print on both paper and synthetic stocks and deliver the finished pieces in singles, rolls, sheets, ganged, or fanfolded. With a variety of finishing options, Badger provides a custom piece from initial design through complete printed tags and labels.
For more information about these new synthetic labels, including samples, call Badger Tag & Label at 1-800-331-4863 or e-mail: sales@badgertag.com