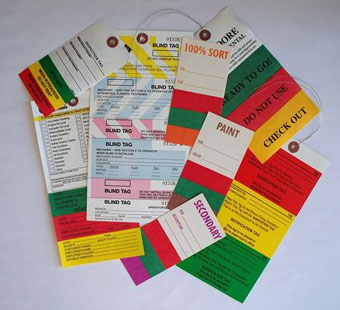 Random Lake, WI -- When a rental company came to Badger Tag & Label with the challenge of tracking their equipment inventory, Badger's solution was to create a perforated tag allowing for multiple tear-off parts in clearly identifiable colors. This tag allows the company to immediately see where each piece of equipment is in the rental cycle - just returned and requiring inspection, needing repairs or maintenance therefore not available for rent, or ready to rent.
The American Rental Association's 2007 industry report detailed the size of the North American rental market was $42.3 billion that year. It is projected to have a compounded annual growth rate of 4.1 percent. That indicates a growing demand for this type of tag in that industry alone. When Badger learned how successful this tag has been for managing the rental business industry, they saw it as a solution for other industries.
Other applications this tag has already been utilized for include manufacturing for moving a product through production stages, lockout tag-out, maintenance, and sanitation. The tag would be helpful for any application that requires multiple handling of an item and where the color-coding could identify from a distance the stage the item is in.
The tag can be printed on traditional tag stock or any of the new synthetic stocks. Use of a synthetic stock means the tag would also have these attributes: waterproof, chemical and tear resistant, UV stabilized, puncture resistant, and withstands temperature extremes from 140˚ F to -20˚ F.
Depending on the type of stock used, the tag can also be printed using laser or dot-matrix methods, be stamped, or handwritten on by the end user.
"Our market niche is developing a tag or label solution when we are presented with a challenge," says DJ Jacoby, Vice President/General Manager at Badger. "With our ability to print any size tag, in up to four color process, the customization options are virtually unlimited. We can develop the best tag or label solution when we have all the details associated with its end use."
Badger Tag & Label Corporation has been producing custom tags and labels since 1935. Headquartered in Random Lake, Wisconsin, they serve clients throughout the nation. They print on both paper and synthetic stocks and deliver the finished pieces in singles, rolls, sheets, ganged, or fanfolded. With a variety of finishing options, Badger provides a custom piece from initial design through complete printed tags and labels.
For more information about multi-color in-process tags, including free samples, call Badger Tag & Label at 1-800-331-4863 or e-mail: rita@badgertag.com