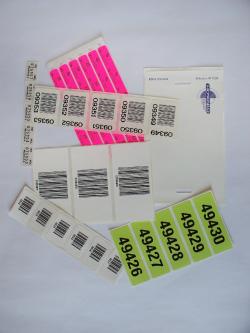 Random Lake, WI -- Labels, they've been in use for what seems like forever and have unlimited applications in virtually every industry. And while most of us don't give them a second thought, Badger Tag & Label Corporation does. In conjunction with a supplier, they have developed an adhesive that performs like a permanent hold but still is repositionable.
The other features of this new adhesive that make it versatile include: it can be cleanly removed from numerous types of surfaces including metals, plastics, glass, and paper. In addition to offering good adhesion and clean long-term removability from smooth surfaces, it also adheres to some more challenging surfaces such as Teflon, textured PVC, and corrugated.
Badger is currently using the adhesive combined with a white polyester synthetic base stock, but could offer it with other synthetic or paper stocks. The polyester material can withstand somewhat oily surfaces and still adheres well. It also withstands temperatures up to approximately 200°F without distortion or leaving adhesive residue behind. The synthetic label demonstrates good resistance to commonly used cleaning solutions, alcohol, ammonia, water; and conditions like humidity. It is thermal transfer and laser imprintable.
What kinds of applications or uses would be best for this new label? One where it has already proven invaluable is in the manufacturing process when it's critical to track from specific raw material through complete produced item. Badger currently produces a label with a combination of barcodes and face slits so as the label progresses through the manufacturing process with the item, at each stage a code can be scanned and a portion of the label removed.
"At Badger we have traditionally found that if one of our customers presents us with a challenge, it's common that other companies can benefit by knowing a label or tag can address that issue," said Dale Jacoby, Vice President. "This new adhesive allows labels to play an even greater role in manufacturing and beyond."
Badger Tag & Label Corporation produces tags and labels for customers throughout the nation. Based in Random Lake, Wisconsin, the company is in the third generation of being a family owned, privately held business. Badger prints flexographic and letterpress methods on paper and synthetic stocks and delivers the finished pieces in singles, rolls, sheets, ganged, or fanfolded. They also produce short run and specialty projects with a UV digital press and plotter cutter. With a variety of finishing options, Badger provides a custom piece from initial design and development through final delivery.
For more information, including to request free samples of the new label or to submit a project for a production estimate, call Badger Tag & Label at 1-800-331-4863, e-mail: sales@badgertag.com.