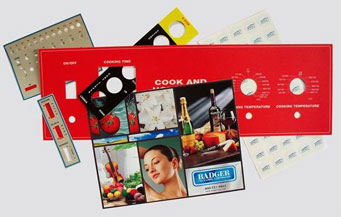 Random Lake, WI -- With the installation of a new six-color UV digital press and plotter cutter, Badger Tag & Label Corporation offers new options for low and medium volume projects. Already they have produced safety decals, faceplates, control panels, signs, backlit panels, floor and carpet graphics, window clings, wall displays, and short runs of tags and labels. The Badger sales team welcomes any inquiry about a potential project since every day they discover a new solution to a challenge.
The press can print up to 60" widths and any length when the material is on a roll. With the option to print on materials up to 1.75" thick, and the versatility of the print area, Badger can use a virtually unlimited array of substrates. Some of the most common to date have been coated papers, styrene, vinyl, adhesives, coated aluminum, static cling, wood, canvas, and other synthetic materials. Using six UV colors, the press creates photo quality images that have a three- to five-year outdoor life and are abrasion resistant.
The new plotter cutter when paired with the press opens up an even greater array of projects Badger can produce. There are no tooling charges associated with a project which can result in great savings. And, the intricacy and quantity of cuts are not limited. Both die cutting from the substrate and kiss cutting are possible. To see the cutter in operation leaves one thinking this state-of-the-art machine has a mind of its own since with just three reading points it goes about the job of cutting to perfection.
"We've been creating letterpress and flexographic printed tags and labels for 74 years," says DJ Jacoby, Vice President/General Manager at Badger. "Increasingly we've had inquiries for shorter run projects and when we saw the unbelievable capabilities of the combination of these two machines we knew they could expand our service to both current and new accounts."
A recent control panel project best demonstrates the advantages of the new equipment. Instead of printing a separate label and creating a die to cut it, then shipping that to the customer to apply to the control panel, Badger was able to print directly onto the metal control panel. The result was savings in both production time and money.
Badger Tag & Label Corporation has been producing custom tags and labels since 1935. Headquartered in Random Lake, Wisconsin, they serve clients throughout the nation. They print flexographic and letterpress tags and labels on paper and synthetic stocks and deliver the finished pieces in singles, rolls, sheets, ganged, or fanfolded. They also produce short run and specialty projects on a UV digital press and plotter cutter. With a variety of finishing options, Badger provides a custom piece from initial design through final delivery.
For a free sample of a project from the new press and cutter, or for more information about them, including submitting a project for a production estimate, call Badger Tag & Label at 1-800-331-4863 or e-mail: sales@badgertag.com.