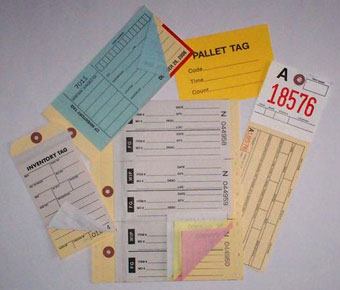 Random Lake, WI -- Many companies perform an annual inventory this time of year. Badger Tag & Label Corporation creates custom tags that can make the process go more smoothly and accurately.
The types of tags most frequently used for inventory include single, manifold, and a thermal label attached to a tag. There are benefits to each type. "We work with companies of all sizes to understand their inventory process and develop a tag that will be the best solution for their needs," says Dale (DJ) Jacoby, Vice President at Badger. "For some companies who have used the same process or tags for years, we have been able to save them thousands of dollars in man-hours by developing a tag that streamlines inventory."
Single tags can be printed in virtually any size and traditionally feature a standard cut corner. Many companies choose to add a fiber reinforced patch to the hole for durability if the tag stays with the item for an extended time or requires multiple handling. The option to include wire, string, elastic, hooks, or double-sided tape allows even more flexibility in assuring the tag meets the needs of the inventory process.
Manifold, or multiple part, tags can include up to four parts and are the answer for companies that require multiple people or facilities to have information about items in inventory. Traditional carbon or NCR (carbonless) stock can be used. For companies with demanding outdoor storage, Tyvek® can be the top layer for protection and durability. Crash numbers can be printed on the top layer and make an impression on the successive layers which allows all users to match information about a specific numbered part.
Companies who use thermal print labels on a tag choose one design for the combination piece and then print information specific to each inventory item on the label. The thermal stock allows for printing using laser, thermal, inkjet, and dot-matrix methods.
Badger can print numbers and/or barcodes on inventory tags. The variety of finishing options they offer such as scoring, perforation, and lamination assure each inventory tag addresses the final use.
Badger Tag & Label Corporation has been producing custom tags and labels since 1935. Headquartered in Random Lake, Wisconsin, they serve clients throughout the nation. They print on both paper and synthetic stocks and deliver the finished pieces in singles, rolls, sheets, ganged, or fanfolded. With a variety of finishing options, Badger provides a custom piece from initial design through complete printed tags and labels.
For more information about inventory tags, including samples, call Badger Tag & Label at 1-800-331-4863 or e-mail: sales@badgertag.com