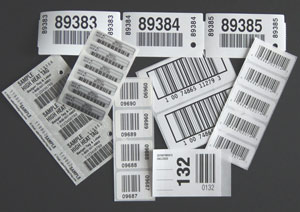 Random Lake, WI -- Barcodes drive many of the business and consumer interactions in today's marketplace. With the recent institution of the 2005 Sunrise Date by the Uniform Code Council the focus on retail product barcodes is key. The reason for this initiative is that the EAN International, the global body that issues product codes oversees, uses an eight- and thirteen-digit system. The 2005 mandate makes it necessary to scan and process both the eight and thirteen digit codes in addition to the standard twelve digit barcodes the United States has been accustomed to. The change enables North American companies to compete more effectively in global business.
Badger's expertise in the area of barcodes includes machine and human readable numbers. They can print consecutive and static (matching) digits for a variety of codes. While many printers can print barcodes, understanding the details behind each is critical to proper use.
The most commonly recognized barcodes, all of which Badger prints, are UPC, code 39, code 128, and interleaved 2 of 5. Badger also can print codabar, ITF 14, and the new EAN-8 and EAN-13 barcodes. In addition to the codes Badger prints on tags and labels being used on consumer products, they are also used internally by many companies as identification for inventory control.
Badger prints in up to eight colors which allows for any combination of four-color process, spot colors, varnishes, and laminates on a tag or label. They offer a choice of paper or synthetic stocks and can print small runs of hundreds to very large runs of millions. With finishing options like perforation, scoring, stringing, and wiring, Badger works with the companies they serve to develop the optimum solution to their tag and label needs.
Badger Tag & Label Corporation has been producing custom tags and labels since 1935. Headquartered in Random Lake, Wisconsin, they serve clients throughout the nation. They print on both paper and synthetic stocks and deliver the finished pieces in singles, rolls, sheets, ganged, or fanfolded. With a variety of finishing options, Badger provides a custom piece from initial design through complete printed tags and labels.
For more information about the tags and labels Badger produces, including free samples of barcodes, call Badger Tag & Label at 1-800-331-4863 or e-mail: sales@badgertag.com