Random Lake, WI -- Badger Tag & Label Corporation has developed a tag where both the stock and the ink are approved by the FDA which makes it appropriate for the food processing industry. This new multi-piece, barcoded tag offers additional properties associated with the synthetic stock used.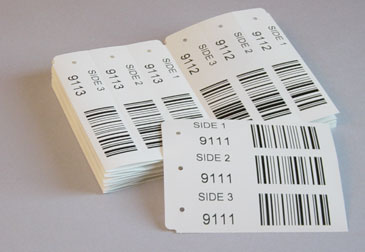 The features of this synthetic stock; waterproof, chemical resistance, withstands temperatures from hot to cold, and puncture and tear resistance, allow it to move through processing and remain intact. It can also withstand the elements so it works well for outdoor applications.
While any configuration is possible, the initial tag developed includes three matching barcoded tags that are divided with perforations between the sets and each tag for ease of separation. These tags are used in the food industry by a meat packaging firm to identify areas on the carcass to be processed. Each three-piece set has one similar barcode and each set has consecutively numbered barcodes. The tags are attached as a set to the food via meat or plastic hooks and each tag can be torn off during processing.
Although this tag was originally developed for a meat packer, other food industry companies as well as those in general manufacturing could benefit from its use.
"We are focused on finding solutions to challenges that our clients bring to us," says Bob Thiel, President of Badger Tag & Label. "For this particular tag, we started the approval process in Washington D.C. and ultimately worked with the FDA field inspector in our area for approvals."
Tags from Badger can be on white stock or they can be tinted any color before imprinting of the information. Whether provided in a single, fanfolded, rolls, or ganged format, tags also can be specified in different sizes and shapes. With a variety of finishing options including scoring, lamination, pre-wiring or stringing, and numbering and barcoding, the customization options are virtually limitless.
Badger Tag & Label Corporation has been producing custom tags and labels since 1935. Headquartered in Random Lake, Wisconsin, they serve clients throughout the nation. They work with both paper and synthetic stocks and deliver the finished pieces in rolls, sheets or fanfolded. With a variety of finishing options, Badger provides a custom piece from initial design through complete printed tags and labels.
For more information about the tags and labels Badger produces, including a free sample of the FDA approved tag, call Badger Tag & Label at 1-800-331-4863 or e-mail: sales@badgertag.com