Random Lake, WI -- Badger Tag & Label recently broke ground and construction is already underway for a new 22,000 square foot building. Located on twelve acres in the town of Sherman, the building's address, N507 Badger Way, will be on the road custom named for the company. This will be Badger's second facility in the Random Lake area and they will continue to utilize their original building at 83 Bentert Street.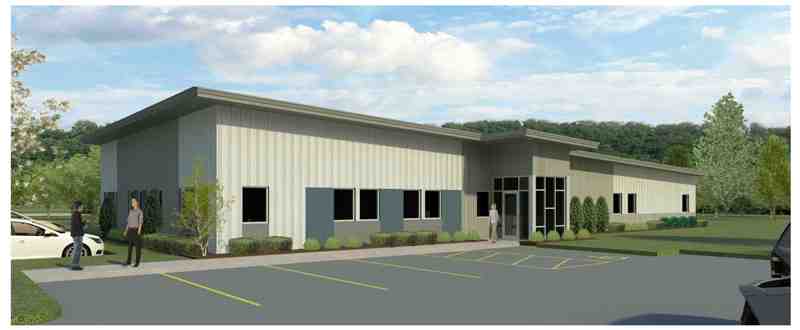 Comprising the new building space will be 14,271 feet for production, 4,393 for warehouse/storage, 2,280 of corporate offices, and 1,056 feet for a receiving area. The production area will be the new home of four flexographic presses, to be moved from the original facility, for printing custom tags and labels; the rewind department which will also move from the original facility; as well as a digital press and plotter cutter for diecutting of specialty projects that are currently housed at a separate Plymouth location. Construction is slated to be complete later this year. The 30,000 square foot original building will carry on the tag and label printing company's eighty-two year tradition as the letterpress printing and finishing location.
"While there aren't immediate plans to add staff," said Kevin Kalkofen, Vice President at Badger, "we'll potentially increase our workforce in the future. Over the years as we've added capabilities, we have reconfigured our two current facilities to accommodate everything and we have literally run out of space. This new building will offer the benefits of additional space and closer proximity of the two buildings."
The footprint of the new building will be placed on the property with future expansion in mind. Up to 10,000 square feet could be added to this building. Also with an insight for future growth, the twelve acre parcel that Badger chose allows for sale of select portions for construction by other businesses. A retention pond, currently under development, is also part of the current project.
Badger Tag & Label Corporation produces tags and labels for customers throughout the nation. Based in Random Lake, Wisconsin, the company is a third-generation, family owned, privately held business that began in 1935. Badger prints flexographic and letterpress methods on paper and synthetic stocks and delivers the finished pieces in singles, rolls, sheets, ganged, or fanfolded. They also have UV digital printing capabilities for production of short run and specialty projects. With a variety of finishing options, Badger provides a custom piece from initial design and development through final delivery.
Contact Badger Tag & Label at 1-800-331-4863, or e-mail: sales@badgertag.com.